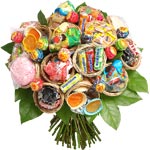 Le Goûter d'Enfants
39 €
or

€

per person if this many of us buy it

5
Tous les bonbons de notre enfanceA tous les gourmands, voici notre bouquet préféré... Ce bouquet inédit de friandises sucrées, variées et régressives est composé de sucettes, boules de coco, chocolats et guimauves, bonbons croquants et acidulés. Clin d'oeil tendre et généreux à ces bonbons de notre enfance, ce bouquet est un modèle du genre, et fera le bonheur des grands enfants qui le savoureront avec délice et gourmandise. Ce bouquet est disponible en 2 tailles : 11 paniers pour 33 €, 16 paniers pour 39 €.
More info on the website of
Aquarelle
.
Availability : En Stock. Latest change : Thursday, May 23, 2013
Add to your commonbox
How it works ?
Le Goûter d'Enfants
Comments
There are no comments