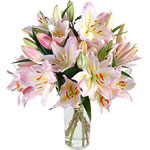 Lys Orientaux
33 €
or

€

per person if this many of us buy it

5
Un vase offert avec votre bouquetSouvenirs d'Orient, parfums entêtants de tubéreuses, pureté inégalée de ces lys millénaires...'Pink Expession', est une espèce délicate aux fleurs lourdes et multiples. Elles embaumeront et feront tout le charme de votre intérieur. Nous vous les proposons aujourd'hui assemblés en bouquet de 7, 8 ou 9 tiges, accompagnés d'un vase spécialement élaboré à épanouissement de ces fleurs.
More info on the website of
Aquarelle
.
Availability : En Stock. Latest change : Saturday, October 13, 2012
Add to your commonbox
How it works ?
Lys Orientaux
Comments
There are no comments